Jelle Slager - Research
The pneumococcal genome, transcriptome and their flexibility
Jelle Slager, room 5172.864 tel (05036-)32102 email This email address is being protected from spambots. You need JavaScript enabled to view it.

Introduction

I started my PhD research in 2011 with Jan-Willem when he was still in Groningen. And while the lab, with most of its inhabitants, moved to Switzerland, I stayed in Groningen to finish writing my thesis and tie together all the loose ends that somehow emerged over the last 6 years.
Aim
To obtain a more complete and correct overview of the pneumococcal genome and transcriptome and to chart transcript boundaries (start sites, terminators, processing sites).

To bring to light the flexibility of the pneumococcus, represented by, among other things, variability of genome sequence/organization and stress-induced transcriptome changes.
Techniques
Cloning
Sequencing data analysis (Illumina and PacBio; RNA-Seq / DNA-Seq / ChIP-Seq / Tn-Seq)
Programming in R and Python
Luminescence assays
Quantitative PCR
Northern blotting
Fluorescence microscopy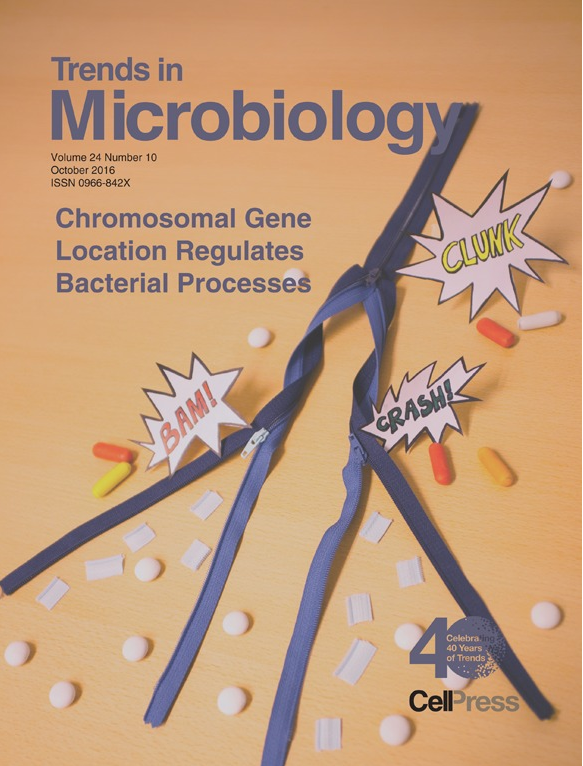 The image represents an artist's impression of bacterial DNA replication being stalled by the action of certain antibiotics. The resulting shift in distribution of gene copy numbers around the chromosome can play a significant part in regulating the cell's stress response. As discussed in reference
2
, this is just one of many ways in which chromosomal gene order can be involved in the bacterial gene regulatory landscape. Image and design by Katrin Beilharz and Jelle Slager.
References
J. Slager, M. Kjos, L. Attaiech, J.-W. Veening (2014). Antibiotic-induced replication stress triggers bacterial competence by increasing gene dosage near the origin. Cell 157: 395–406.
J. Slager, J.-W. Veening (2016). Hard-wired control of bacterial processes by chromosomal gene location. Trends in Microbiology 24: 788–800.
R. Aprianto, J. Slager, S. Holsappel, J.-W. Veening (2016). Time-resolved dual RNA-seq reveals extensive rewiring of lung epithelial and pneumococcal transcriptomes during early infection. Genome Biol 17: 198.
M. Kjos, E. Miller, J. Slager, F.B. Lake, O. Gericke, I.S. Roberts, D.E. Rozen, J.-W. Veening (2016). Expression of Streptococcus pneumoniae bacteriocins is induced by antibiotics via regulatory interplay with the competence system. PLoS Pathog 12: e1005422.
X. Liu, C. Gallay, M. Kjos, A. Domenech, J. Slager, S.P. van Kessel, K. Knoops, R.A. Sorg, J.-R. Zhang, J.-W.Veening (2017). High-throughput CRISPRi phenotyping identifies new essential genes in Streptococcus pneumoniae. Mol Syst Biol 13: 931.